2018 Officers Elected
2018 Officers elected are: Janet Thompson-Chair; Becky Zenor-Vice-Chair; Chelle Ringsdorf-Secretary; Penny Kinser-Treasurer; Renee Chekal-Altar; Susan Carnahn-Bethany; Mychelle Fada-Kitchen; Vernita Kruse-Quilting; Chelle and Becky-Circles for Support and Cookie Walk; Susan Carnahan and Carol Tedder (back-up) Funerals.

Thank you for the Noise Offering. The total was $222.48 to be used for mailing and purchasing of any items still needed for the school kits.

Equal Exchange coffees, teas, and chocolate bars will soon be available. Look for further updates when you may buy these items.

Cookie Walk date is changed to Saturday, December 2nd. This will coincide with the Mineola Craft Show.



Pictured are some of the Quilting Ladies who come on Tuesday afternoons. They have several projects that the quilts are given to: Lutheran World Relief, our new baptismal babies, high school graduates, and our rest home members. The Quilters are here every Tuesday afternoon for a couple of hours. They invite you to join them.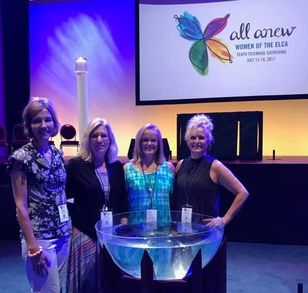 Five of our ladies attended the Tenth Triennial Gathering, July 13-16 at the Minneapolis Convention Center in Minneapolis. "All Anew" was the theme. Attending from our congregation: Linda McManigal, Becky Zenor, Chelle Ringsdorf, Sophie Ringsdorf, and Janet Thompson. The ladies report the prayer and worship services were amazing. They attended as many classes as they could. The workshops were excellent. "We were touched by the joy, hope and God's light that came through the speakers while talking about overwhelming circumstances." Now that they are back with ideas big and small they look forward to sharing them with our women's group and the whole congregation.





2017 Meeting Schedule:
January 15, March 19, April 23, August 20, September 17, and October 15. The Bake Sale will be April 9, and the Cookie Walk is December 2nd.


---
Women of the ELCA
St. John's Second
Ladies' Night Out
Thursday, June 22
7:00 p.m.
Vine Street Cellars, Glenwood

The evening discussion was about your favorite prom dress or party dress. Very enjoyable time sharing photos and dresses. What a fun way to get to know one another.
This is a social evening for ladies of all ages. Hosted by WELCA. (Another one is being planned so be sure to check back for the date.)


Bethany Lutheran Home Schedule:
Our church is in charge of providing Sunday 4:00 p.m. services in the month of February.
We host:
Bingo-February 22, June 28, October 25,
Birthday Party-July 10.
All events start at 2:30.
Fundraisers in which we are responsible for providing food and workers include:
Auxiliary Bake Sale April 10, 2 pm,
Ice Cream Social June 4, 2-4 pm,
Salad Luncheon,
Bake Sale September 20, 11-1 pm.

December Cookie Walk. We sold over 65# of cookies and treats. Our proceeds were $558.75, a very successful fundraiser!



Every women at St. John is a member of the WELCA. If you do not attend the monthly meeting we hope you will find a activity that you would like to be involved with. Listed are some of the activities we are involved with:

Funeral Lunches: Susan Carnahan is Chairperson. Thank you to everyone who provides food and helps. This is one of the ways we can help our member's families in the time of their sorrow.


The Quilting Ladies are making quilts for Lutheran World Relief. The fillers for these blankets may be polyester fabric, curtains, drapes, old blankets and old sheets. They may be tied with crochet or embroidery thread. Donations for this project would be appreciated. We also need fabric and sheets for our local charity quilts.
The quilters meet in the Parish hall on Tuesday at 1:00. If you would like an easy way to volunteer or get some community service hours, please consider joining us. All ages are welcome.
Fabric for quilts is available for you to make tops at home. If you have questions contact Vernita at 526-2267 or Mary Joyce at 526-2269

---
Bethany Lutheran Home: We support Bethany Lutheran Home by sponsoring Bingo and birthday parties. We also help with the yearly Salad Luncheon. These are just a few of the ways the WELCA does to supports Bethany. Susan Carnahan is in charge. Contact Susan if you like to help with a bingo or birthday party. The residents really enjoy these activities.


Lent Soup Suppers: The Lent Soup Suppers the first Wednesday after Ash Wednesday. These suppers begin at 6:00 p.m. followed by Worship at 7:00 p.m.

Food Drive: The WELCA are sponsoring food drives for the Mills County Ministerial Association Food Pantry and the Mills County Food Pantry. Each month they rotate who the drive is for. A shopping cart is in the narthex for you to place your items in. Needed items for the month are listed in the Newsletter and the bulletin. If you have any questions please contact Michelle Fada.

Circles 4 Support: A Mills County Health Dept. and Glenwood Ministerial Association sponsored organization that provides support for families. Helping families live safe, healthy and productive lives. We provide meals for several of their Thursday evening meetings at Grace United Methodist Church, Glenwood.

Youth: Support the youth of the church and help with Sunday School if needed.

Blood Mobile: Several times a year we provide lunch for the Blood Mobile at Grace Methodist Church.