Luke Kuenzli, Pastor
605 Main Street
Mineola IA 51554, (712) 526-2268

February
Sunday Morning Schedule: 9:00 Sunday School, Choir, Inter-Generational Bible Class
10:00 Fellowship
10:30 Worship and Communion

February 4, New Member Class after Worship
February 11, Council Meeting/Luncheon at Tobey Jack's, 11:45
Linwood Estates Worship, 1:30
Pub Theology, 6:00 at Keg Creek Brewey
February 14, Ash Wednesday, 7:00 Worship
February 17, German Heritage Dinner 4:30-7:00

Lenten Services, February 21 and 28 at Grace United Methodist Church, Glenwood
​
Read or Listen to Pastor Luke's Sermons on "Pastor Page"


February is a very busy month at St. John
February 11, Pub Theology resumes. Father Dan Siepker and Pastor Luke will lead a discussion on the Practices and Purposes of Lent in the Lutheran and Catholic traditions, starting at 6:00 at Keg Creek Brewery.

We will share Lenten Services this year with other churches. Please see Pastor Luke's February message on the Pastor's page for details. Ash Wednesday will be at St. John.
​
Annual German Heritage Dinner
Saturday, February 17
4:30 to 7:00 p.m.
Featuring homemade "Mett Wurst" (sausage), Rye Bread and Desserts
Potatoes, Sauerkraut, Green Beans

Adults: $13.00, Children 5-12 $6.00, Under 5 free
Take Outs Available
​Uncooked sausage links for sale

​Come and join us for a traditional German Dinner.


See more photos from last years Dinner on "Past Events" page.

Burying the Alleluia

In the season of Lent, we set aside for a time our song of praise "Alleluia," which means "praise God!" Our cry during Lent is "Hosanna," meaning "Lord, save us!" Pastor Luke used a visual of the burning of the Palm leaves from last year's Palm Sunday. The ashes will be used at the Ash Wednesday Service, 2-14 at 7:00 p.m.


Sacrament of Holy Baptism
Sunday, February 11, Harper Ellisyn Griffin and Sloane Monroe Griffin were welcomed into the family of God in the waters of baptism. Their parents are Stacy and Curtis Griffin and older sister are Faylynn, Mckynlee, and Hadleigh (in eternity). Sponsors are Irene Schoening, Crystal Curtis, Brady Griffin, and Cody Griffin.
Sacrament of Holy Baptism
Sunday, February 4th, Hunter Thompson Booker (6 months), son of Melissa and Jesse Booker and brother to Allison (8 years), is welcomed into the family of God through baptism into the life, death, and resurrection of Christ. Sponsors are Cindy and Jeff Rinderer.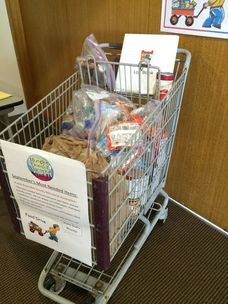 Remember food donations are needed year around. We did it-met our goal of 750 pounds for 2017! We donated 786 pounds plus many pounds of personal products. Please bring your donations and place in the shopping cart. Food items are donated to the Mills Co. Food Pantry and the Ministerial Association's Food Pantry. Bring the items in, weigh it, record in in the binder and place in the cart. We are called to glorify God, grow in faith, and build community. Thank you to all who support the Food Pantries.


---
---
Read Jane and Louis Faulstich's January newsletter about their latest experiences from the mission field.

News from Tanna!

Dear friends in Christ,

Please take a look at the latest happenings from Vanuatu as we begin anew year.

In Christ,
Louis & Jane Faulstich