Luke Kuenzli, Pastor
605 Main Street; PO Box 106
Mineola IA 51554, (712) 526-2268



Covid-19 Precautions for in-person worship
In accordance with new CDC recommendations, for fully vaccinated individuals, masks are no longer required, and quiet singing is allowed. ​We ask that anyone who has not been fully vaccinated (final dose plus two weeks) continue to use a mask and refrain from singing for the safety of their friends and community members.
We continue to advise (not require) that unimmunized persons in the vulnerable population groups of 65+ years of age and anyone with underlying medical conditions remain home and join us for worship virtually. If you are in one of these populations and you choose to come, please wear a mask for your own and your neighbors' safety.
We ask that anyone with any respiratory symptoms (cough, sniffles, sneezing, sore throat) or fever please remain home.​
Hand sanitizers are located throughout the open areas. Feel free to use them!
​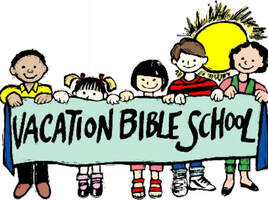 Vacation Bible School/Day Camp
Mark your calendar!
August 9th-12th
1st through 6th Grade 12:30-5:00
Pre K 12:30-3:00
​
The Theme is "Brand New"
(with an auto repair shop)

Ages 3 through entering 6th grade

This is for all children of the community
Please see the Newsletter for how you can help with: supplies, snacks, teaching, helpers, etc.
Sign up list at church
(or contact Pastor, Michelle or Lisa Tallman)
Children will need a registration form-inside the Newsletter or fill out when you come the first day

This is a wonderful outreach to our community
so be sure to invite neighbors children or anyone in the community.
Do not need to be members of St. John



---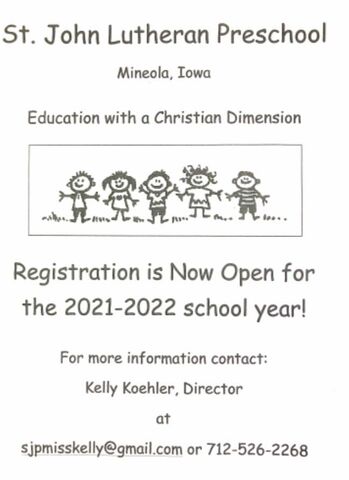 ​St. John Lutheran Preschool

​If you are considering enrolling your child in Preschool
there are two spot remaining in the 3/4 year old room.

Please contact Kelly Koehler at sjpmisskelly@gmail.com or call the church office at 712-526-2268 for more details.





---
---
​MCMA Food Pantry (Grace UMC, Glenwood)
The Women of St. John are having a food drive and collecting for Mills County Ministerial Association Food Pantry all through the month of August.
Kid friendly cereals, baking mixes, dry pastas, toilet paper and feminine hygiene products are ALWAYS welcome and needed.
​Equal Exchange
More coffee and chocolate came in and the hall table is stocked! Check it out as there are is a new flavor of chocolate! People of faith are living out their values through their consumer choices, using fairly traded products. Thank you for supporting farming families around the world. St. John WELCA

​
News from Jane and Louis Faulstich in Vanuatu
Read about Jane and Louis Faulstich's ministry in their latest newsletter.

News from Vanuatu!

In Christ,
Louis & Jane Faulstich




​
Support our ministry: