Luke Kuenzli, Pastor
605 Main Street
Mineola IA 51554, (712) 526-2268



September Worship
9:00 Sunday School, Choir,
​Inter-Generational Catechism Class
10:00 Fellowship & Coffee
10:30 Worship & Communion


Pastor's Sermons are found on "Pastor's Page" (Audio & on file)


---
Preschool First Day, September 6, 9:00
Rally Day (Sunday School) & Church Picnic, September 10, 9:00
Pub Theology, September 10, 6:00 at Keg Creek Brewery
Bethany Salad Luncheon/Bake Sale, September 20, 11:00-1:00
"God's Work, Our Hand." Day of Service, September 24
*Quilting, Every Tuesday, 1:00
*Bible Study with Leslie, Every Wednesday, 1:00
*St. John Preschool, Monday, Wednesday, and Friday
Please see the Calendar/Servers page for more information.


Third Grade Bible Presentation

Rue George, was presented with a Bible during Sunday's Worship Service.
​



​

September 10, Pub Theology resumed for the fall.
Keg Creek Brewery. Come for some lively discussions. Next Pub Theology is October 8th.

God's work, Our hands.

Sunday, September 24
​Projects begin at 2:00 p.m.


Join us as we do community service on God's Work. Our Hands Sunday. Several options: Mills County United /
​Church Playground / Preschool / Care Cards.

​


Thank you to the Quilting Ladies



Pictured are some of the Quilting Ladies who come on Tuesday afternoons. They have several projects that the quilts are given to: Lutheran World Relief, our new baptismal babies, high school graduates, and our rest home members. The Quilters are here every Tuesday afternoon for a couple of hours. They invite you to join them.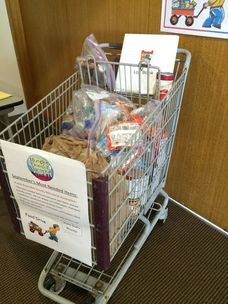 Remember food donations are needed year around. Please bring your donations and place in the shopping cart in the Narthex. Food items are donated to the Mills Co. Food Pantry and the Ministerial Association's Food Pantry. Bring the items in, weigh it, record in in the binder and place in the cart. We are called to glorify God, grow in faith, and build community. Check the Newsletter for items needed.


---
---
Read Jane and Louis Faulstich's August newsletter about their latest experiences from the mission field.

News from Tanna!

Dear friends in Christ,

Please take a look at the latest happenings from Vanuatu and join us in prayer as work starts up once again on Tanna.

In Christ,
Louis & Jane Faulstich