Luke Kuenzli, Pastor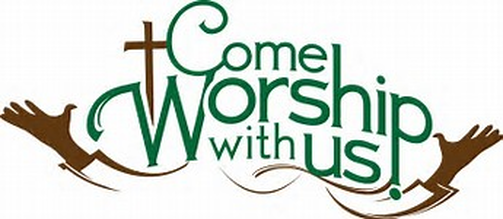 May Worship

9:00 Sunday School,
Inter-Generational Catechisms
10:00 Fellowship & Coffee
10:30 Worship & Communion

Pastor's Sermons are found on "Pastor's Page" (Audio & on file)


---
UPCOMING EVENTS
*Last day of Sunday School, Sunday May 21, Noise Offering will be held with proceeds going to the 150th
*Pub Theology, May 14, 6:00 Keg Creek Brewery
*Last day of Preschool, May 19, Preschool Program 7:00 p.m.
*Men's Breakfast and Bible Study, Saturday, May 27, 8:00
*Memorial Day Service, Plumer Settlement Church, 10:00, 150th Year Celebration-Message by Pastor Luke
*Church Clean Up, June 3, 9:00 Sign up sheets in Narthex
*Senior High School Recognition, Sunday, June 4, during 10:00 Fellowship and 10:30 Church
*Bethany Auxiliary Ice Cream Social, June 4, 2-4
*Synod Assembly, June 8-10

Attention All Graduates, High School and above-Please give your graduation information to the Church office and it will be in June's Newsletter. Deadline May 20. Include School and Degree.

Salem Lutheran Church/Plumer Settlement
Sesquicentennial (150th) Anniversary Celebration
Salem Lutheran Church known to many as "Plumer Settlement Church" will observe the 150th Anniversary of its founding. The Anniversary will be observed on Memorial Day, May 29th at 10:00 a.m. followed by the Mineola Legion observance in the cemetery. Refreshments will be served after the Cemetery Ceremony. Various historical artifacts will be on display.
Home to many of the earliest pioneer families in Oak Township. Located in what came to be known as Plumer's Settlement, it served first as a focal point for worship services in the area and later as a magnet for many descendants of those pioneers to visit and often for the Memorial Day service held each May.
You may not be familiar with this country church a few miles West of Mineola. Salem is one of the oldest Iowa Lutheran Churches. In October 1880, the Western District of the Iowa Synod was organized in this church. It was known as the Mother Church of the Central District of the American Lutheran Church, from which some 100 Lutheran churches have stemmed, including those at Mineola and Treynor (Iowa
For directions to the church go to:
http://www.plumersettlement.org/directions.html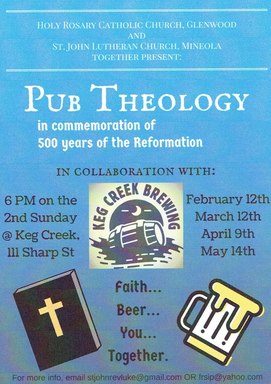 Pub Theology
May 14
6:00

Everyone is invited to this lively and fun evening of discussion.
Join us at the Keg Creek Brewery.
Hosted by
Holy Rosary Catholic Church, Glenwood
and St. John Lutheran Church, Mineola.


---
Remember food donations are needed year around. Please bring your donations and place in the shopping cart in the Narthex. Food items are donated to the Mills Co. Food Pantry and the Ministerial Association's Food Pantry. Bring the items in, weigh it, record in in the binder and place in the cart. We are called to glorify God, grow in faith, and build community. Check the Newsletter for items needed.


---
Read Jane and Louis
Faulstich's April newsletter about their latest experiences from the mission field. Serving together,
Louis & Jane
Click on the following to read about what they are seeing and doing in Vanuatu.


Read about building their house and a "outhouse".