Luke Kuenzli, Pastor
605 Main Street
Mineola IA 51554, (712) 526-2268

March
Sunday Morning Schedule: 9:00 Sunday School, Choir, Inter-Generational Bible Class
10:00 Fellowship
10:30 Worship and Communion

March 7, Lent Soup Supper (6:00) and Worship (7:00)
March 11, New Members joining church followed by a "Welcome Dinner" (Potluck)
Pub Theology, 6:00 at Keg Creek Brewery
March 14, Lent Soup Supper (6:00) and Worship (7:00)
March 18, Church Council Meeting 11:30
WELCA Meeting 11:30
March 21, Lent Soup Supper (6:00) and Worship (7:00)
March 25, Palm Sunday
WELCA Bake Sale
March 26, Seder Passover Supper, at St. John at 6:00
March 29, Maundy Thursday at Grace Methodist Church at 7:00
March 30, Good Friday Worship at Congregational Church at 7:00
March 31, St. John Easter Egg Hunt at 9:30
April 1, EASTER Worship & Holy Communion at 7:30 and 10:30
Easter Breakfast at 8:30

​Bethany Lutheran Home Worship: Every Sunday in March at 4:00

​See the Calendar for monthly schedule
Read or Listen to Pastor Luke's Sermons on "Pastor Page"


Sunday, March 11th we welcomed new members: Tina Carpenter, Kathy Anderson, Stacy and Curtis Griffin and daughters Faylynn, Mckynlee, Harper, and Sloane, Rick Honeycutt, and Paul Zillmer.

A pot luck dinner followed the worship service. A big WELCOME to our newest members!



| | |
| --- | --- |
| | Choir singing for the March 11th Worship Service. |
Burying the Alleluia

In the season of Lent, we set aside for a time our song of praise "Alleluia," which means "praise God!" Our cry during Lent is "Hosanna," meaning "Lord, save us!" Pastor Luke used a visual of the burning of the Palm leaves from last year's Palm Sunday. The ashes will be used at the Ash Wednesday Service, 2-14 at 7:00 p.m.


​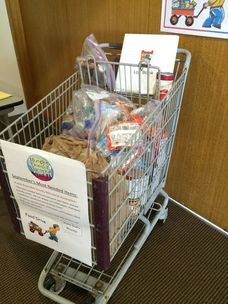 Remember food donations are needed year around. Please bring your donations and place in the shopping cart. Food items are donated to the Mills Co. Food Pantry and the Ministerial Association's Food Pantry. Bring the items in, weigh it, record in in the binder and place in the cart. We are called to glorify God, grow in faith, and build community. Thank you to all who support the Food Pantries.
See the March Newsletter for items needed.


---
---
Read Jane and Louis Faulstich's March newsletter about their latest experiences from the mission field.

News from Tanna!

Dear friends in Christ,

Please enjoy reading the latest news from the island of Tanna and join us in prayer for the month of March.

In Christ,
Louis & Jane Faulstich